Double-Project Plus - Kool Cats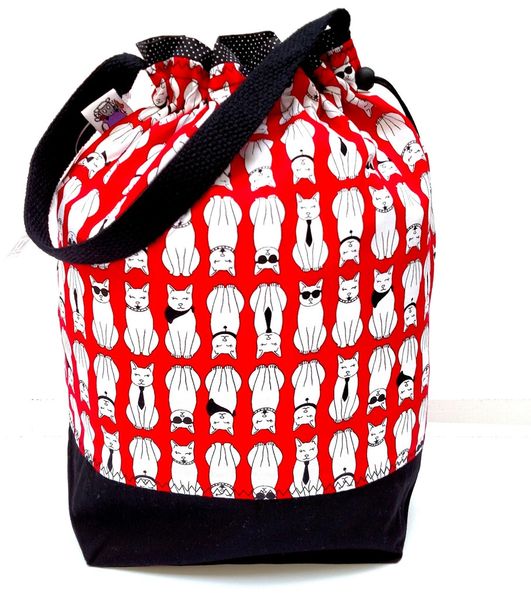 Double-Project Plus - Kool Cats
Sometimes size does matter and for those times, the Double-Project+ bag is there for you. This bag is so big you'll wonder how you ever stuffed that Fair Isle sweater project into that broken old plastic storage bag. Of course, like all Slipped Stitch Studios Plus project bags; these bags are designed to hold more than just the work-in-progress and the yarn to finish it. This bag can easily handle a pattern wallet, all of the needles and hooks you need and notion bags.
Or you can use it for that bout of "start-itis" you get seasonally, because it's excellent for multiple smaller projects. After all that the Double-Project+ bag is perfectly portable and ready to go when you are.
Rest assured that your project will travel in style. The Double-Project+ is less a warehouse for your large project and more a limousine. Two huge pleated yarn pockets allow you to carry all the yarn you need without any trouble and the no-snag, no-commitment yarn guides allow you to knit straight from the pocket without getting your yarn in a tangle. There is also a huge pocket for large notions as well as two smaller pockets for the various other things your project likes to travel with.

With the Double-Project+ there's no need to put a hold on a large project just because you can't be tied to the rocking chair.

Features:
SIZE: This "NEW" size bag is 15" tall x 14" wide with a 6" gusseted reinforced bottom.

Designed to fit large projects such as sweaters, afghans or complex color work as well as everything you need to complete the project. Also works amazing for two smaller projects.

Two 8" tall x 6 1/2" wide pleated yarn pockets.

Each yarn pocket has a snag-free, no-commitment yarn guide. These guides snap around your yarn making it easy to work with the yarn from the pocket and can be unsnapped so you can switch yarn without cutting.

A large 6" tall by 5" wide storage pocket

Two slightly smaller 6" tall by 4.25" wide storage pockets

A sturdy cotton-webbed handle, able to fit over your shoulder, so you can grab and go.

A drawstring closure with a cord lock means the bag stays closed and your supplies stay put.

Reversible: Try it inside out to make the pockets more accessible or for a new look.

For color work that gets tangled- inside out helps untwist easily without tangles!

Designed to be snag free. There are no zippers or Velcro closures to catch your yarn.
Care Instructions
Spot clean if possible. However, you can machine wash delicate cycle in cold water and Low heat/Fluff dry. Iron on Medium/ High cotton setting.