Needle Nook - Mushroom And Acorn Toss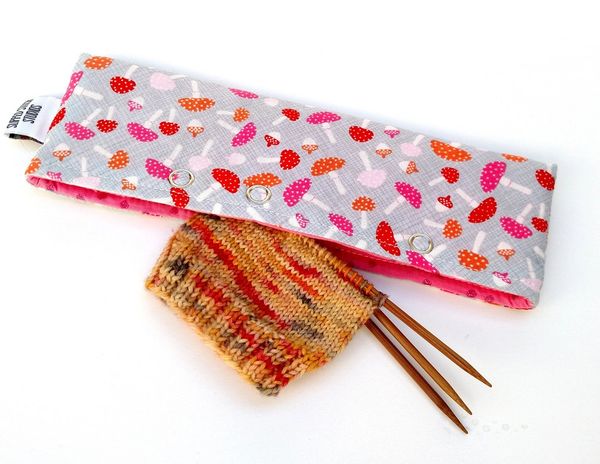 Needle Nook - Mushroom And Acorn Toss
Spend more time stitching and less time rebuilding the damage of an improperly stored project!
The Needle Nook is the perfect way to store your circular, double pointed needle, and crochet projects when you aren't busy working on them. The Needle Nook will snap your needles into place so you don't have to worry about them coming off of your project causing a loss of needles, stitches, stitch markers, or your mind.
Features

Inside measurement is approximately 9.25 inches long and 2.75 inches wide.

The perfect size for ALL circular and double pointed needles, crochet hooks, and even some straight needles!


Our "off center" second snap allows the Needle Nook to be used with needles smaller than 5 inches AND locks in circular needles for the perfect fit!

Padded enclosure is securely stitched to protect against needle dulling or poking

Side Pocket allows you to travel with extra DPN, or Crochet hooks.
Use with Circular Needles:
Place the 2 needles together (points facing the same direction) and slip inside the Needle Nook aiming the points toward the single snap and snap that one closed.

With the cable to the left of the opposite snap, snap the other outside snap.

Gently curve the cable up under the remaining center snap and snap it shut to lock the project inside the nook.
Care Instructions
Spot clean if possible. However, you can machine wash delicate cycle in cold water and Low heat/Fluff dry. Iron on Medium/ High cotton setting.