Two Skein Plus - Wonder Woman & Bat Girl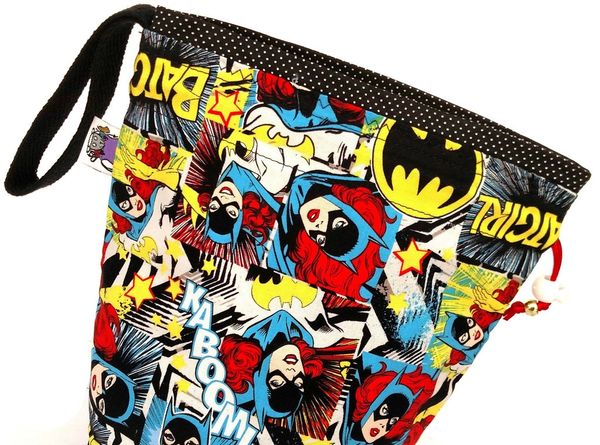 Two Skein Plus - Wonder Woman & Bat Girl
The Two Skein+ project bag is the perfect stitching accessory for anyone who wants to have their cake and eat it too. Like you, we look at our afternoon schedule and don't think it's fair that we have to choose between getting some fresh air and getting some stitches in on that project. That's why we designed the Two Skein+ project bag at the nexus of portability and size.

A soft and convenient wrist band keeps the Two Skein+ project bag a short distance from your busy needles so you can stitch as you walk, ride, or wait. It also has two convenient pockets to help you keep your project organized and snag free on the go. Drop that ugly old plastic storage bag for good and treat yourself to something durable, convenient and uniquely you.

Features:
Approximately 11 inch tall x 9 inch wide with a 5 inch Reinforced gusseted bottom.

Designed to fit a small to medium project-in-progress and yarn including up to 10 inch straight needles or double pointed needles but also to be small enough to fit into other bags or purses easily.

Two 4" tall x 4" wide (cell phone sized) pockets

13" sturdy cotton-webbed handle designed to hang comfortably over your wrist as you knit won't cut your circulation like cords or thick handles.

A drawstring closure with a cord lock means the bag stays closed and your supplies stay put. (Sorry, Kitty!)
Reversible:

Try it inside out to make the pockets more accessible or for a new look.

Designed to be snag free. No zippers or Velcro closures to catch your yarn.
Care Instructions

Spot clean if possible. However, you can machine wash delicate cycle in cold water and Low heat/Fluff dry. Iron on Medium/ High cotton setting.