Zipper Notion Pouch - Back To The Future - Hill Valley News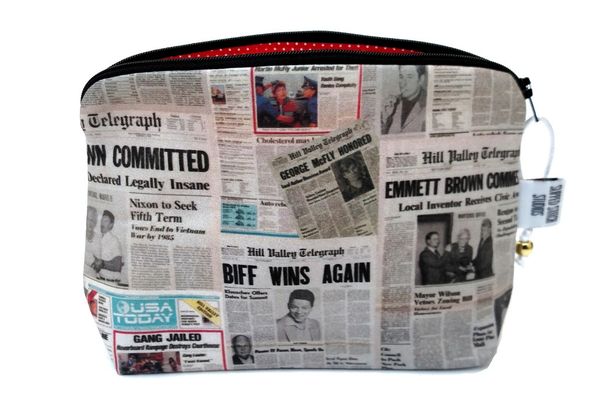 Zipper Notion Pouch - Back To The Future - Hill Valley News
This notion pouch has some great function. We love it's gussets that keep it upright rather then flopping over and spilling your supplies. It is great for your craft notions, electronics, cosmetics, even a small project has been toted around in this.
Uses:
Craft Notions Organization: All your odds and ends that you need when you go out.
Double Point, Circular, and Hook storage: Because Hey, sometimes you just need to grab and GO!
Small Circular or DPN Or Crochet projects
Electronics: The padded pouch is a great way to keep your Kindle or Phone & Accessories safe. (Confirm sizing before purchase)
Cosmetics, & Travel Organization
Features & Measurements:
Interfaced with a thick fleece that helps keep sharp points from poking through.


Gussets keep the pouch upright so that it can sit out on your lap or table without spilling the contents.

Each pouch includes a zipper pull for easy open and closing.

These pouches are trapezoids with rounded corners at the top.

Approximately 5.5" tall, 7.5" wide at the top, 8" wide at the bottom, and 3" gusset.
Care Instructions
Spot clean if possible. However, you can machine wash delicate cycle in cold water and Low heat/Fluff dry. Iron on Medium/ High cotton setting.